How do I Play a Game That I Have Edited & Saved?
Once you have made some edits to your Game and have Saved them, there are multiple ways you can start playing that Game:
You can directly play the game you are editing while inside the Editor.
You can play your game from the Library.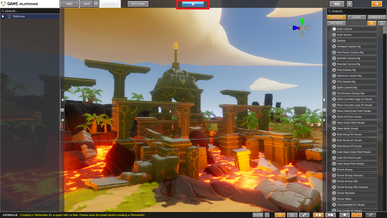 Playing Your Game While Inside the Editor
Edit
Whenever you are in the Editor, you can press the Blue Play Arrow Button to instantly start playing the current state of your Game.
This is a good way to test out small changes. You don't even need to Save your edits to start playing in this context. However, it is good practice to Save your Game before you start playing, in case some unexpected unrecoverable error is encountered during play.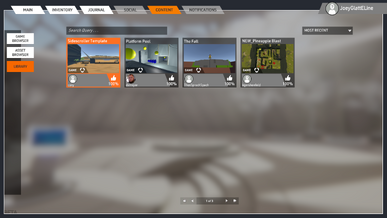 Playing Your Game From the Library
Edit
Whenever you Save your Game, it is saved to the Library, which means that you can always easily access it.
To access the Library, press 'Esc' to open your menu, then select the Content tab. Next, select the Library subtab.
From here, you will see all of your Games in the Library, including the one you recently Saved.
When you see the Game you want to play, select it and press 'PLAY' to load it and start playing.